Located on the banks of the legendary Ba Lai River, Hai Van Farm - Vam Ho Bird Sanctuary is one of the famous tourist attractions in Ben Tre with unspoiled natural scenery, storks flying straight, and kind people. At Vam Ho, visitors seem to experience all the most typical features of Ba Tri - Ben Tre tourism, well known as "The peaceful paradise of different birds species ".
On August 6, 2020, the People's Committee of Ben Tre province has issued a decision to recognize the tourist site Hai Van Farm - Vam Ho Bird Sanctuary of Hai Van Ecotourism Co., Ltd. Hai Van Farm - Vam Ho Bird Sanctuary is located in Tan Quy hamlet, Tan My commune, Ba Tri district, with a total area of ​​89,825m2 - located close to Vam Ho bird sanctuary and only about 30 km from Ben Tre city. There are regular attractive travel programs held to satisfy any demands of visitors.
Visit and take photos at Hai Van Farm - Vam Ho Bird Sanctuary
(Photo: Hai Van Farm - Vam Ho Bird Sanctuary)
River tourism
Traveling by boat on the Ba Lai River will definitely bring visitors memorable experiences. In the early morning, from your boat, visitors enjoy the fresh air, watch flocks of birds fly from the date palm forest to all directions. Or at dusk, the storks fly back giving ways for the cauldron to look for food at night. In addition, visitors also have the opportunity to observe the rhythm of village life, pick Apple mangrove, harvest fish and shrimp on the river, cultural exchanges on boats, etc.
When the sunset falls, the scenery of the river is extremely romantic, visitors spend time watching the sunset, the firefly lights shimmer in the pine trees or enjoy idyllic rural meals on the boat, and so on.
Organic farm
Hai Van Farm - Vam Ho Bird Sanctuary is also known as an "organic farm" with large fruit gardens such as: green skin pomelo, Siamese coconut, jackfruit, mango, dragon fruit, guava, ambarella, plum, longan, bananas and beds of fresh green vegetables. All cultivated without pesticides to guarantee the health of visitors.
At the same time, the farm also has many rustic and peaceful village miniatures for visitors to enjoy taking photos of such as: straw, buffalo, cow, lotus pond, water jar, flower cluster, bamboo bridge, canoe and so on. All turned up a peaceful countryside that create reminiscent scene of Mother's home.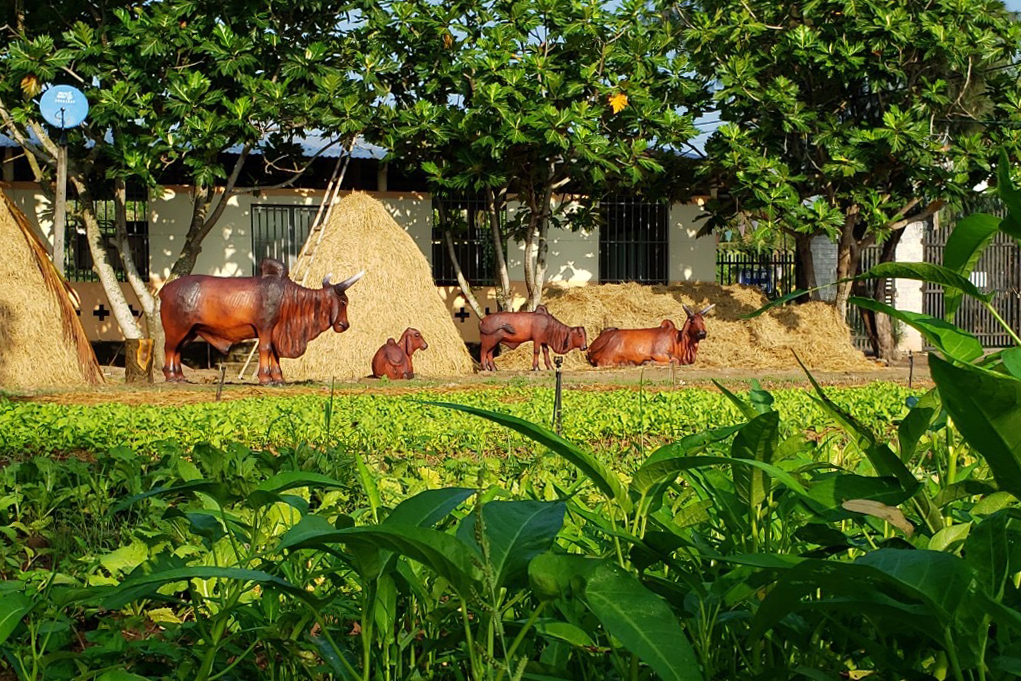 Peaceful scene at Organic Farm
(Photo: Hai Van Farm - Vam Ho Bird Sanctuary)
Vam Ho Sanctuary
From April to October, the number of birds are immeasurable, as this is the gathering time in the date forest at Vam Ho to find good breeding locations. At the present, there are more than 100 species of birds including storks, cauldrons, Dendrocygna javanica, ibis, gray herons, Cormorant, white storks, etc. and wild animals such as: pythons, snakes, squirrels, weasels, bats, and so on. In addition, there are many species of trees typical of mangroves: dates, mangroves, cork, water coconuts, etc. which are home to differnt species of birds and storks.
Vam Ho is blessed with an extremely rich and diverse flora and fauna ecosystem. Visitors may have the opportunity to go for a walk in the forest or rowing a boat through the mangroves, enjoy strange feeling while crossing the loose bamboo bridges or lie comfortably on the swinging hammocks under the forest foliage and breathe the cool breeze from Ba Lai river.
Vam Ho cuisines
The kitchen of Hai Van Farm - Vam Ho Bird Sanctuary is always ready to serve and satisfy visitors with dishes featuring unique flavors of Coconut Land such as: cork fruit hotpot, coconut steamed shrimp, coconut roasted shrimp, braised fish in clay pot, sizzling pancake, braised coconut meat, etc. Especially, all ingredients are processed from clean materials produced by the organic farm and the surrounding farmers.
The dishes are not only delicious and tasty, but the decoration is also sophisticated and eye-catching. That is the food culture of Ba Tri district in particular and Ben Tre province in general, expressed through the unmistakable simplicity.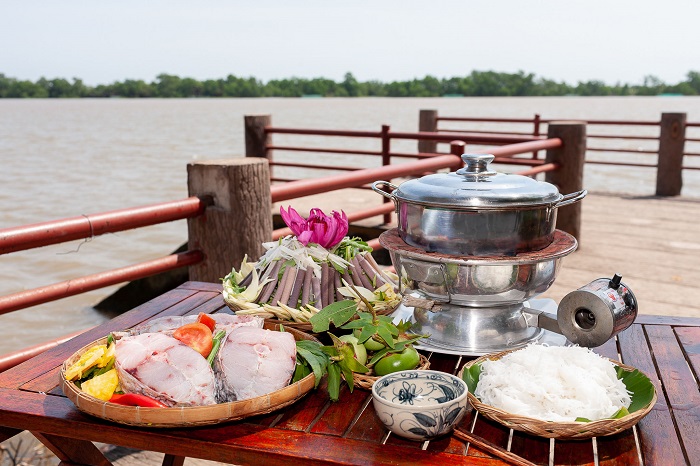 Món lẩu trái bần đặc trưng tại Nông trại Hải Vân - Sân Chim Vàm Hồ
(Ảnh: Nông trại Hải Vân - Sân Chim Vàm Hồ)
Event organization - Team Building
With a capacity of about 800 people in two buildings, the farm is suitable as a venue for small and medium-sized seminars and events. Above all, there are many educational programs for students such as: Union activities, Team building activities, camping, picnics, soft skills training, etc.
Hai Van Farm - Vam Ho Bird Sanctuary is also an ideal place to organize team building with many interesting and fun folk games such as canoe racing, relay stilts, lotus leaf water transfer, areca pulling, blindfolded striking the pot, etc. which definitely bring visitors the most comfortable relaxing moments.
Vam Ho Homestay
If visitors prefer long stay to fully explore the farm, they can choose to stay overnight at Vam Ho Homestay. The houses are made of coconut wood, with thatched roofs with a rustic style of garden, which will give visitors a very relaxing and peaceful experience.
Tourism brand "Water Tourism in the Land of Coconut" has been growing more and more. Hai Van Farm - Vam Ho Bird Sanctuary in Ba Tri district, Ben Tre province is always a place of attraction for tourists in the journey to discover Ben Tre. Let's experience and keep the beautiful memories at Vam Ho with your family and friends!
Tường Vi